Annual Loyalty Pass - A smarter way to learn, from the name you trust
Join thousands of lawyers nationwide who attend our accredited, live, weekly programs. For over a decade we've offered innovative, cost-effective solutions that allow new, transitioning and experienced lawyers from a variety of practice areas to easily meet their continuing legal education needs in a way that suits their schedule and budget. Want to attend a single course? Register for one webinar for as little as $140 + HST. Want to register a group for only one or two courses? Take advantage of our group discounts and save up to 25% per program. Want to attend multiple courses per year but only pay once? Our Annual Loyalty Pass has got you covered! The Seminar Partners Loyalty Pass provides maximum planning and learning flexibility for repeat customers. Whether you practice in a large, small, or solo firm setting, your Loyalty Pass keeps you up-to-date with changing laws and practice so you can stay ahead of the competition and remain at the top of your field.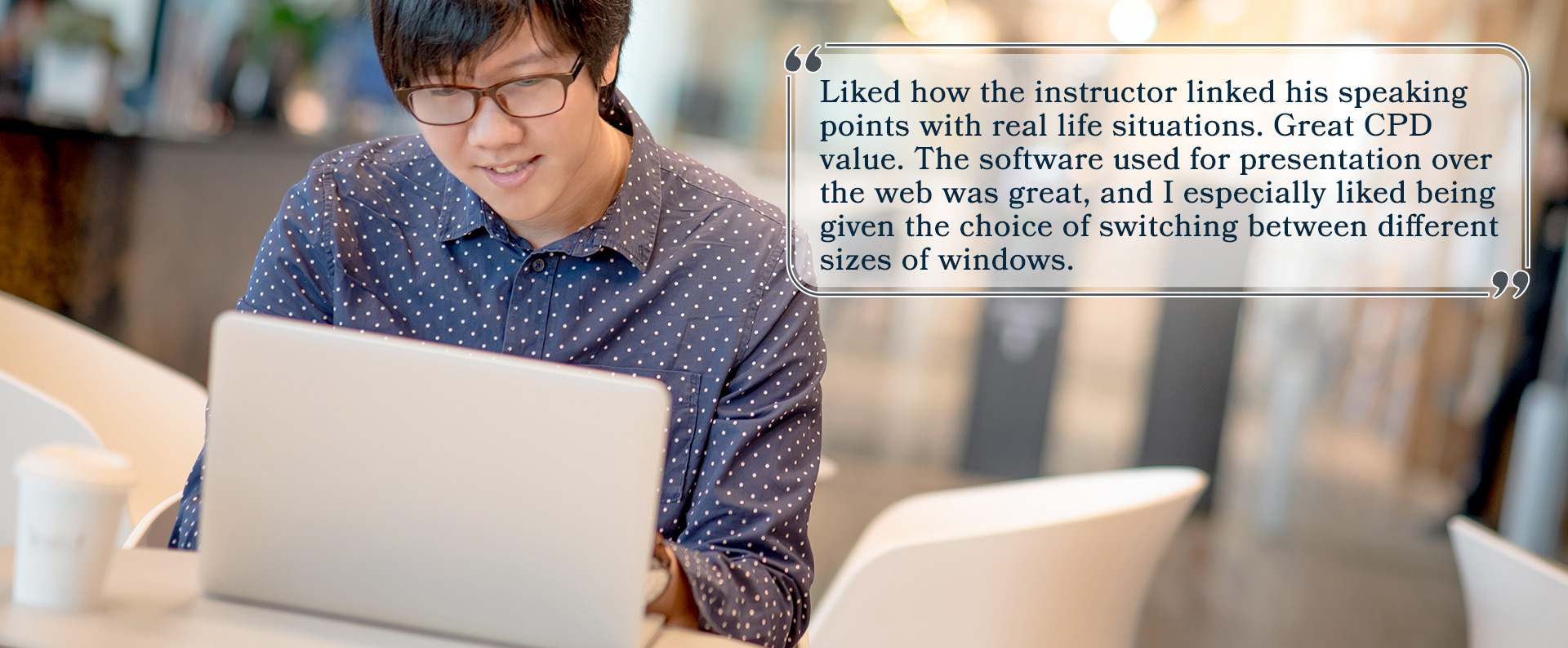 Features include:
Pay only once for unlimited access to dozens of live webinars between January 1 to December 31
Easy-to-use e-learning platform – no complicated software to install or account log-in required
Attend on your computer, tablet or smartphone from anywhere you have an internet connection
Practical, compelling content developed by lawyers for lawyers
Timely and focused topics covering substantive law, procedural updates, lawyering skills, practice management and technology, and ethics and elimination of bias
Engaging presenters drawn from recognized subject-matter experts and influential practitioners in all areas of law, from across Canada and around the globe
Live Q & A so you can pose your most important questions to our instructors and get immediate answers
Interactive features like polling designed for a web learning environment
Downloadable materials to read at your convenience
On-demand archive access to the program recording and materials for 60 days following the live webinar
New programs added continuously throughout the year
Satisfaction guaranteed – if you are not completely satisfied with your first webinar, you can cancel your Annual Loyalty Pass within one day of that webinar, for a full refund of your Annual Loyalty Pass purchase price
How does the Annual Loyalty Pass work?
Purchase your Annual Loyalty Pass online or by calling (866) 606-4212.
You'll receive an email confirmation with your Pass ID.
Watch our weekly emails and quarterly mailings for webinars of interest to you.
Whenever you want to attend a webinar, register online or by phone, fax or mail and provide your Pass ID to reduce your registration fee for that program to $0. The more programs you take, the more you save!
Important: Do not forget to provide your Pass ID when registering for a course. If you do not remember your Pass ID, call us at (866) 606-4212 or email us at jennifer@seminarpartners.ca, and we will retrieve it for you. If you register for a course and forget to enter your Pass ID and end up paying for that course, your registration is subject to our normal refund policies.
With an Annual Loyalty Pass you can put a predictable cap on your CLE costs, yet have access to as much continuing education as you want. Get yours today while Passes are still available!
The Fine Print
Purchasing an Annual Loyalty Pass indicates acceptance of the following terms and conditions:
The Annual Loyalty Pass replaces the Individual Annual All Access Pass.
Seminar Partners' Annual Loyalty Pass grants registered purchasers unlimited tuition-free access to any live webinar (and associated archive) produced by Seminar Partners between January 1 and December 31 of the corresponding year of the Pass purchase (the Pass term).
Each Pass must be prepaid. Pass price is per person + HST, for a single, individual user, limit one Pass per person. No additional discounts or credits will apply.
Offer cannot be transferred to prior purchases, and no prior payments for courses scheduled within the Pass term may be applied to or credited to reduce a Pass price. Pass purchase price cannot be pro-rated.
There are no extensions of the Pass ending date, and no credit or carry-forward is available for an unused or under utilized Pass.
Pass ID and Pass purchase price are restricted to the original individual purchaser, and are non-transferable, and registrant substitutions are prohibited. No sharing is permitted and all content acquired with the Pass ID may be utilized by the individual Pass holder only (additional colleagues are not allowed).
Purchasing an Annual Loyalty Pass does not automatically register you for a course. You must use your Pass ID to register for each course separately. If you register for a course and fail to use your Pass ID and end up paying for that course, your registration is subject to our normal refund policies.
Only the Pass holder may access the content registered for under his/her Pass ID. The Pass holder may not share that content or his/her Pass ID with anyone else. Pass holders cannot register groups of lawyers using their Pass ID, and groups are not permitted to access content acquired by the Pass holder.
In the event of suspected misuse or violation of our Pass and/or webinar terms, Seminar Partners reserves the right – without notice – to cancel and/or limit access to content by individual users and/or organizations. No refund will be available.
If you are not completely satisfied with your first webinar during the Pass term, you can cancel your Annual Loyalty Pass within 24 hours of that webinar, for a full refund of your Annual Loyalty Pass purchase price. No refunds are available for unused Passes. No refunds are available outside of these terms.
You may not use your Pass ID for any course taking place past the end of the current Pass term. Once the Pass term ends you must either purchase a new Pass or pay the regular tuition to register for a program that is taking place January 1 or later of the next Pass term. Written notice will be sent to Pass holders in advance of the expiration of the current Pass term, with the option to renew for the next Pass term.
By purchasing an Annual Loyalty Pass, you consent to receiving periodic email notices from us. All emails include the right to opt out of receiving further emails.
Seminar Partners reserves the right to limit the number of Annual Loyalty Passes issued at any time.